Founded in 2008, Yinlong Energy Co.,Ltd is a group company involved in global comprehensive new energy industry, integrated R&D, production and sales of LTO battery core material, battery, electric motor & controller, charging equipment,intelligent energy storage and new energy vehicle, as well as power batteries' recycle for cascading utilization. Yinlong takes scientific and technological innovation as the core to create closed-loop new energy industrial chain. Headquartered at Zhuhai, Yinlong has two brands, Guangtong Automobile and Altairnano energy storage system,and industrial parks in Handan, Shijiazhuang, Chengdu, Tianjin, Luoyang, etc,.
The company has accelerated the pace of technology innovation and industrial upgrading with a comprehensive R&D system. Yinlong has more than 7 Technology Platform of provincial level and above and 6 research institutes, they are Material Research Institute, Battery Research Institute, Commercial Vehicle/Special Vehicle Research Institute, Research Institute of Battery Application and Technology, ESS (energy storage system )Research Institute and Hydrogen-titanium Powertrain Research Institute.

The LTO battery product series developed by the company have the characteristics of high safety, high rate, fast charge and discharge, wide working temperature range, long service life, etc., which can fully cover the energy storage application. They are widely used in new energy vehicles, industrial and commercial parks, communication base stations, power grid frequency modulation, rail transportation, optimization of wind and solar power utilization, ship shore power, housing, military research and other energy storage fields, with broad market prospects and application value. Yinlong High-safety and High-rate LTO Energy Storage Systems are being used in 9 other countries and districts, including the US and Denmark.

At present, Yinlong new energy vehicles are operating in Beijing, Hangzhou, Wuhan, Qingdao, Harbin, Baotou, Haikou etc, more than 220 cities in China. In 2014,Yinlong vintage"DangDang bus"came into service in Tian An Men tourist line and was assigned as the designated vehicle used for the 22th APEC summit held in Beijing. In 2016, Yinlong Double-decker Bus was assigned as designated vehicle used for the 2nd session of Sino-US low-carbon summit and came into operation in Beijing 3rd tourist line which is the first domestic electric double-decker tourist line. In 2017, Yinlong 18m dolphin buses was been put into operation in the No.1 road in Changan Street, Beijing. In 2018, HZMB (Hong Kong-Zhuhai-Macao Bridge) was set to be opened to traffic. Yinlong double-decker bus was used as CCTV broadcasting bus, which is the first bus driving on HZMB.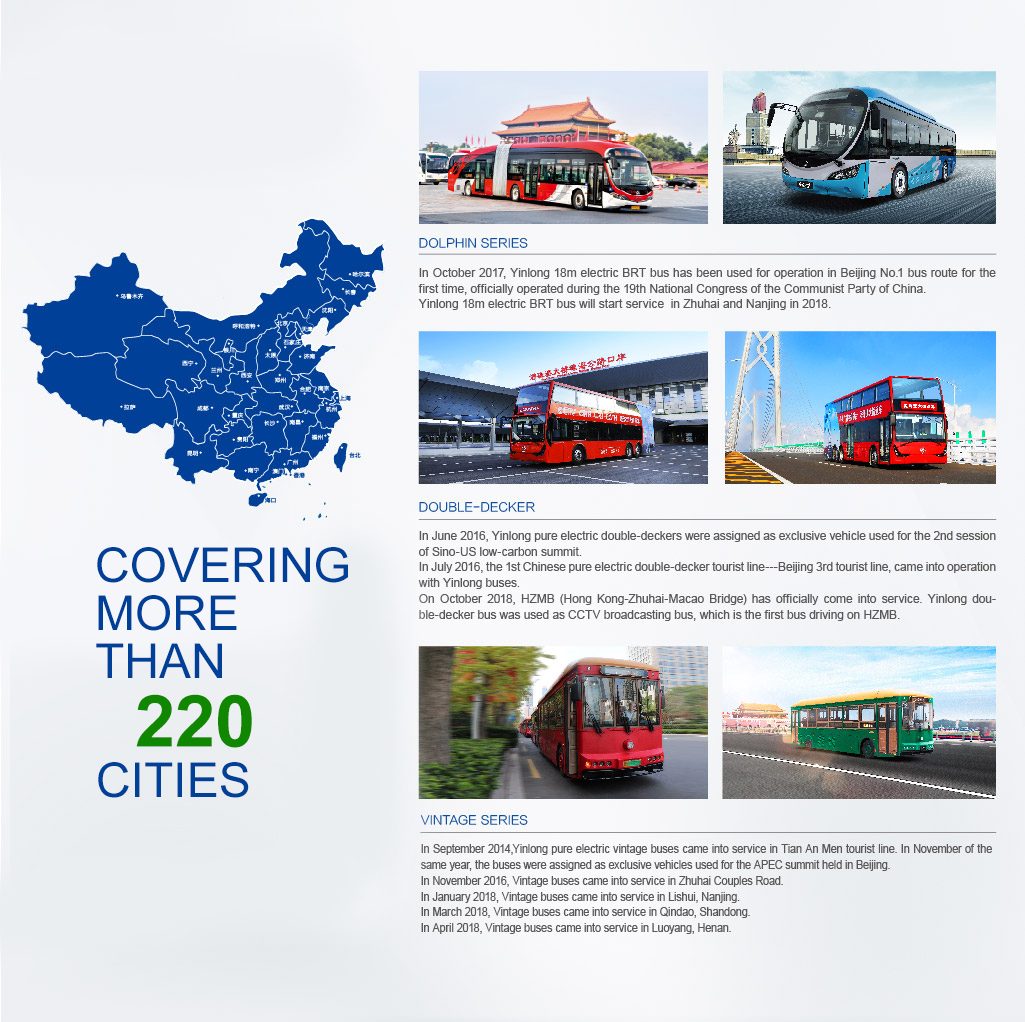 Yinlong has successively gained the awards of "China Top 500 Private Manufacture Enterprise", "National Quality Trustworthy Product", "Technical Achievements Award for Bus Safety", and "Most Influential Enterprise in Chinese Energy Storage Industry". In 2018, the company was awarded the title "Green Factory" by the Ministry of Industry and Information Technology and ranked in the Unicorn Enterprises for the new energy industry, released by the Ministry of Science and Technology. Yinlong 18m Dolphin Bus was awarded with China Contour Design Patent Prize, which was the only candidate of new energy vehicle. In 2019, Yinlong entered the list of"Top 500 Chinese Manufacturing Enterprises" and Yinlong Dolphin Bus was awarded the honorary title of "City Star". In 2020, Yinlong was listed as "Enterprise with National Intellectual Property Strengths" and "Top 100 Benchmarking Enterprise for Quality Inspection Integrity", and Yinlong double-decker bus was awarded "City Tour Bus Star" in the same year. In 2021, Yinlong Testing Center was approved CNAS Certification, and the Yinlong project "Technological Research and Application on High-rate and High-safety Energy Storage System" was evaluated as "international leading level" by China Machinery Industry Federation.
To promote the development with technology, change the future with innovation, Yinlong will adhere to"Along with Green"and lead a sustainable development of the industry.