Company has accelerated the pace of technology innovation and industrial upgrading with the 6+1 R&D strengths. 6+1 means, 6 research institutes and 1 charging research center in the word, they are LTO Nano-materials Research Institute in United States, Battery Research Institute, Commercial Vehicle/Special Vehicle Research Institute, Battery Application and PACK Research Institute, Altair International ESS Research Institute and Fuel Cell Research Institute.

  Yinlong's LTO battery, with the characters of, fast charge in 6mins,wide temperature range ( -50℃~ 60℃) , 30 years' service life, no fire, no explosion, high security and high efficiency etc., has gained the popularity from global famous partners such as AES, INE, BOMBARDIER, Vestas, Ford, PROTERRA, Amberjac Projects, BAE SYSTEMS, State Grid Corporation of China, China Southern Power Grid, CRRC, Shenhua Group, China Tower etc. LTO battery has been widely used in new energy vehicles and energy storage field of communication stations, grid frequency modulation, household, industry, rail transportation, military etc., and has broad market prospects and application values.

At present, Yinlong's new energy vehicles are operating in Beijing, Guangzhou, Shenzhen, Harbin, Tianjin, Chengdu, Nanjing, Luoyang, Shijiazhuang,Wuhan, Changsha, Guizhou, Zhuhai etc, more than 90 cities in China.In 2014,Yinlong's vintage"DangDang bus"came into service in Tian An Men tourist line and were assigned as the designated vehicle used for the 22th APEC summit held in Beijing.

In June 2016,Yinlong double-deckers were assigned as designated vehicle used for the 2nd session of Sino-US low-carbon summit and came into operation in Beijing 3rd tourist line which is the first domestic electric double-decker tourist line. In November, Yinlong's electric buses were awarded as "Special New Energy Vehicle" of the 11th China International Aviation Exhibition and served as reception vehicle for the 8th China International Aerospace Summit Forum. In October 2017, Yinlong dolphin buses in "China Red" color have been put into operation in the No. 1 road in Changan Street, Beijing. On October 23, 2018, HZMB (Hong Kong-Zhuhai-Macao Bridge) has officially come into service. Yinlong double-decker bus was used as CCTV broadcasting bus, which is the first bus driving on HZMB.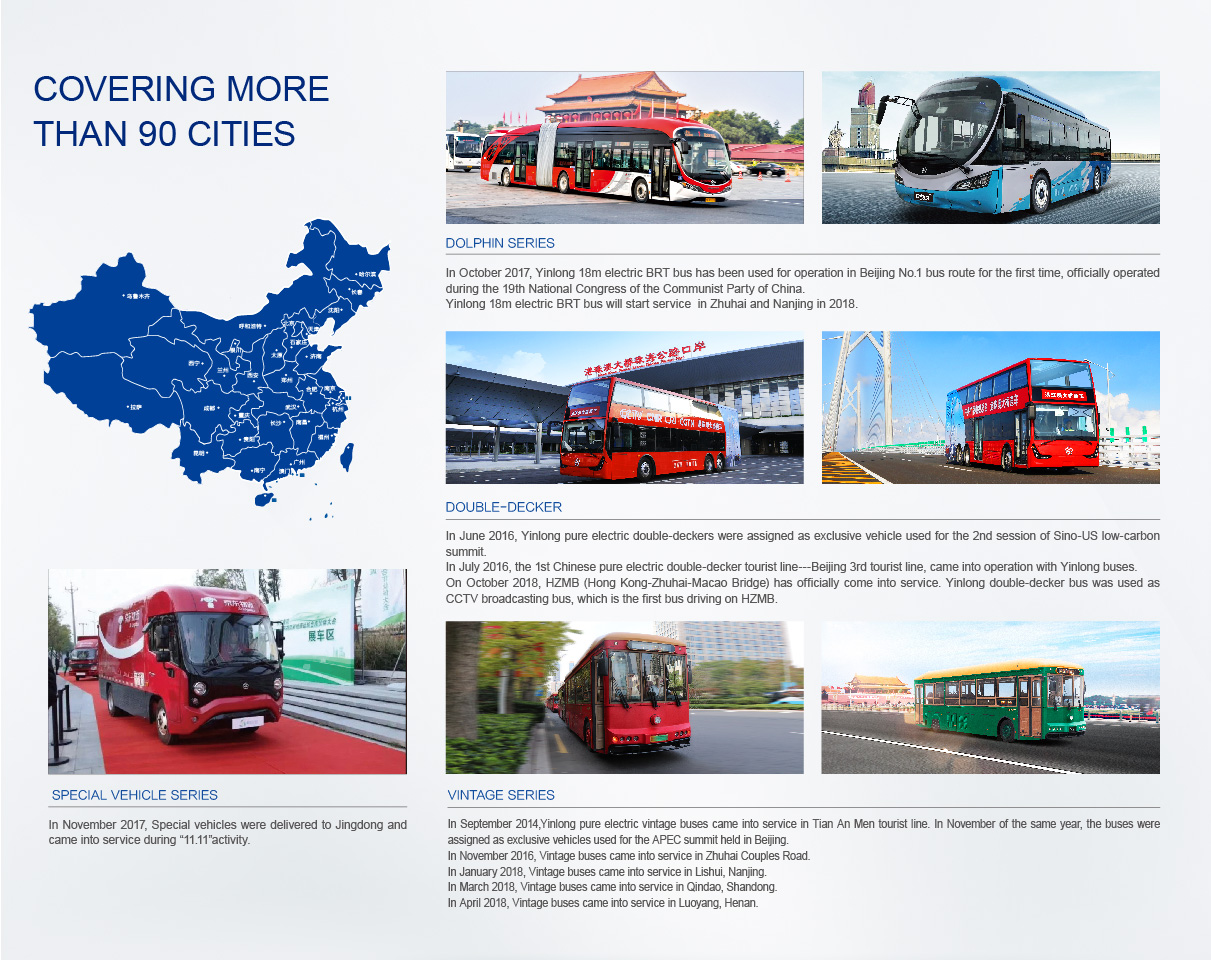 Yinlong has successively gained the awards of "China Top 500 Private Manufacture Enterprise", "Guangdong Province Top 100 Private Enterprise", "Guangdong Intellectual Property Superiority Enterprise" and "Annual Pure Electric Vehicle award" in annual celebration of commercial vehicle industry in China. In 2016, Yinlong LTO technology has been awarded the "BLUESKY Award" which is the Global Most Investment Scenarios to Apply New Technologies for Renewable Energy Utilization by UNIDO, Nano-LTO Power Battery Technology was identified as international advanced level. In 2017, Yinlong has gained the awards of "Most Influential Enterprise of Energy Storage Industry in China", "The Best Battery Supplier in Chinese Energy Storage Industry", "Top Ten New Energy Vehicle Brand", "Top Ten New Energy Bus Models" etc. Up to 2017, Yinlong has been the top 500 new energy enterprises for three consecutive years. In 2018, the company has been awarded as "Green Factory" by the Ministry of Industry and Information Technology and ranked in the Unicorn Enterprises released by the Ministry of Science and Technology in the field of new energy. Yinlong has been the Global Top 500 New Energy Enterprise for consecutive 4 years. Yinlong LTO batteries and vintage buses were rewarded as Guangdong Province Well-known Brands. Yinlong 18m Dolphin Bus was rewarded as China Contour Design Patent Prize, which was the only candidate of new energy vehicle.
To promote the development with technology, change the future with innovation, Yinlong will adhere to "Along with Green" and lead a sustainable development of the industry.